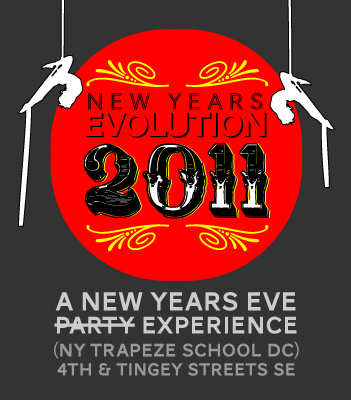 I know that we are in the midst of Hanukkah and Christmas is still at least two weeks away, but it's never too early to start thinking about New Year's Eve!
Today an invite to "New Years Evolution" popped up in my inbox. I clicked to get more information, and as I waited for the website to load I started wondering what makes a great NYE party great. Tops on my list would be champagne or sparkling wine and tasty nibbles. At a close second, the guest list is highly important to the success of a party. Ideally you need a proper ratio of "talkers" to "listeners". Lastly, I think that lighting and/or music can make or break an event. Everything else is a detail.
So, back to "New Years Evolution"...When I visited the site I realized that it is an event hosted at the NY Trapeze School that includes "light installations" and "Aerial Ribbon Dancing Performances". I don't think this event is for me. If an open bar and people dangling from the ceiling floats your boat here's the website for more information: http://rsdc2011-autohome.eventbrite.com/.
What do you think makes a great party great?